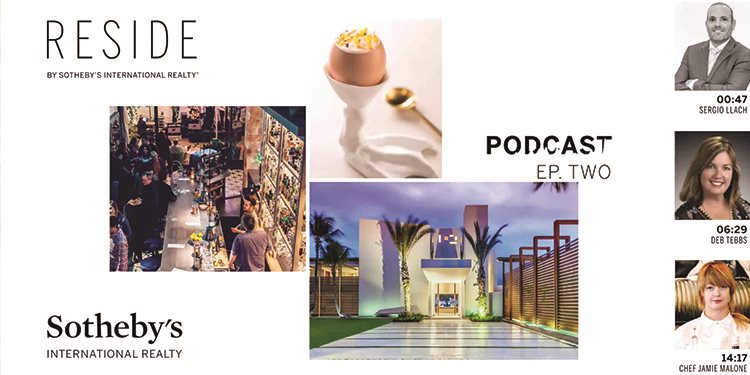 Sotheby's International Realty Brand News
3/14/2019
RESIDE® by Sotheby's International Realty Podcast | Episode 2
by Erik Weinbrecht
Originally published on March 14, 2019 | Extraordinary Living Blog
Inspired by the pages of RESIDE® Magazine, RESIDE by Sotheby's International Realty® explores the incredible people, places, and brands featured in the magazine, bringing their stories to life. From the nightlife of one of the world's favorite cities, to art and beyond, RESIDE by Sotheby's International Realty explores the best of luxury living.
On this episode, we visit the Dominican Republic, discover the eclectic culture of Portland, Oregon, and talk to award-winning Minneapolis Chef, Jamie Malone.
Sergio Llach – Dominican Republic Sotheby's International Realty
https://s.sir.com/2TjcgQA
Deb Tebbs – Cascade Sotheby's International Realty
https://s.sir.com/2XGmclU
Chef Jamie Malone – Grand Cafe
https://www.grandcafemn.com
Episode 2 Transcript:
Hello and welcome to RESIDE® by Sotheby's International Realty. I'm Erik Weinbrecht your host and guide as we dive into the pages of RESIDE magazine to discover more about the incredible people, places, and brands featured within. Please be sure to like, follow, and subscribe to @sothebysrealty on Facebook, Instagram, Twitter, and YouTube to experience incredible homes and stories from around the world. Without further delay, let's get started.
Erik Weinbrecht (EW)
Featured in the latest edition of RESIDE in a round-up of Caribbean destinations, the Dominican Republic is home to a rich cultural history and a highly touted reputation for some of the world's favorite rum, chocolate, coffee, and golf. With me today to explore this incredible destination is Sergio Llach, president and CEO of Dominican Republic Sotheby's international Realty. How's it going Sergio?
Sergio Llach (SL)
I'm doing great, Buenos tardes.
EW
Thank you again for taking the time to join me today. The article in the most recent edition of RESIDE features these incredible destinations in the Caribbean and the Dominican Republic is one of them so you know, where do we start? You know with all the choices in the Caribbean, why the Dominican Republic? What makes it stand out?
SL
I would say my friend is the friendly people and the service provided. It's something that's not found on any other Caribbean nation particularly because Spanish is our primary language, so that's what I would say – the people in the service that they offer.
EW
Now one of the things that you mentioned you know when we first started speaking, before we actually started rolling tape, you told me to add golf into the description of the Dominican Republic. What makes golf so important there?
SL
Well first of all the teeth of the dog is the number one course in the entire Caribbean for countless years and just in our eastern side of the country that we must have at least twenty world-class golf courses. Jack Nicklaus, Pete Dye, and Robert Trent Jones you know, famous worldwide designers, people from all over the world come just to go here.
EW
And you know that that kind of ties well into the magazine article, you know it focuses mostly on tourism and the people who vacation there, what's full time life like ther in the DR?
SL
Full time life down here is great because the DR is not just a small country it's a very big nation and we have Santo Domingo just an hour or so away with three million people and there are symphonies and culture and restaurants. Out in the east where are all the resorts are, you have the lifestyle you want to live with the golfing with the weather year round with the service year round and the restaurants, marinas – everything you could possibly want from a United States or European standpoint. You has with great weather year round and the ocean two steps away.
EW
Are you finding that a lot of people are buying you know their second or third homes in the DR or are they really coming and living there full time?
SL
You know it always starts out with a, "let me buy because we're going to use it for two or four weeks per year," and as families get into the culture and the lifestyle down there it evolves into six months a year. The typical lifespan of a buyer in our part of the Dominican Republic can range anywhere from ten to thirty or more years. This is really interesting, it is fabulous actually, everybody always wants ocean front property that's kind of like the dream for Caribbean and buyers today it is almost impossible for me to find some great ocean front property available because all the children and the grandchildren don't want to sell the homes! I have an inventory issue.
EW
Well you're having a legacy issue.
SL
Yeah yeah really it's true and it's nice because you know the kids are like no you know where we gonna go not only do we grew up here and our kids are going after that where is there that's anywhere better offers everything we offer so it's quite fascinating.
EW
And where do you find your buyers are coming from? Are they are they local or they natives or are they coming from you have a specific place? Is there a specific feeder market
SL
This one of those interesting questions about our market since Santo Domingo is an hour away, I would say fifty percent of our buyers come from that mega feeder to market, which is something right in the country. And then the rest of the mega feeder markets are New York, France, Spain, Canada – all over the world because there are direct flights to Punta Cana and Santo Domingo from every major airline and that's the key to any feeder market.
EW
With twenty eighteen now you know well and the rear view mirror what's on the horizon for the Dominican Republic? What's going on in in twenty nineteen and what you looking forward to?
SL
From a tourism and lifestyle point of view I see it only getting better and better because as most people learn the differences between for example the all-inclusive in the Punta Cana areas they learn about the more upscale lifestyles in certain areas in Punta Cana and La Romana, so I think it's just gonna grow. The world doesn't know about Casa de Campo and the world doesn't know too much about the resorts in Punta Cana, but every year they know more and more so I think it only get better. And a as a as living there more and more I hear, "Gosh I'd like to live here more, gosh I'd like to live here more," so I see it only positive Erik.
EW
Well thank you for taking the time to join me today, you know I think you've given everybody some insight into the Dominican Republic and you know maybe now you know people will know Casa De Campo.
SL
Tell the check us out! As we say here me, "me casa, tu casa!"
EW
Excellent! Be sure to check out the article on sothebysrealty.com to learn more about the Dominican Republic and the other destinations in the Caribbean, thanks again Sergio!
SL
Thanks Erik, take care, bye bye, ciao ciao.
EW
From the sandy beaches and warm escapes of the Caribbean our journey takes us to Portland Oregon where the night life reflects the city's vibrant, varied and incredibly diverse cultural reputation. Deb Tebbs owner and CEO of Cascade Sotheby's International Realty is here to take us out for a night on the town, hi Deb.
Deb Tebbs (DT)
Hi!
EW
Hi how's everything going?
DT
It's going great how are you?
EW
I'm doing okay! So Portland was featured in the most recent addition of reside magazine and I figured you'd be the expert to talk to, right?
DT
Well I certainly know the city well!
EW
Good good. So Portland is very much so in the vernacular of pop culture these days – tell tell me why so many people are going to Portland?
DT
Well I think it's a kind of a combination of a few things – up first of all it's a it's just a flat out right foodie destination, so the diversity of of cuisine is is unending with food carts down to in a five star restaurants and just a diverse Food Network. The other in their tracks people to Portland is the craft beer scene so there are a myriad of breweries and if it's not your gig then there's the wineries that are all within an hour's drive from downtown.
EW
You said craft beer and I just started nodding my head, "yes yes yes." So I mean the craft beer phenomenon and and you know the cultural importance of cuisine that's something that I definitely becomes part of a city's DNA but it's something that's a part of many different cities DNAs, what's what's something that really sets the city apart from other metropolitan cultural hubs the United States?
DT
As far as the food and beer or just in general? [laughs]
EW
In general what's something that's unique to Portland?
DT
Well you know I've been to a lot of different cities and I think first of all to think about that Portland isn't a big city it's a it's a it's a little city I call it a baby city. It's really accessible to walk so you can walk you know from just about anywhere within the city and I know that that happens in a lot of different places but it's, it's the vibe it's small. There are the biking and the walking it's it's very easy accessible areas – lots of green belts lots of water are you know there's its three or four different rivers to come together there. The vibe of the people definitely laid back and artsy very different than if you're in New York City or or a San Francisco just a very different culture. That makes sense?
EW
Yeah it sounds very varied I'm getting this kind of – and personally I I have not been to Portland – but I'm getting this this vibe for me that it's kind of like a um Brooklyn with more injections of nature around it.
DT
That's spot on and I think that yeah the park factor is a big deal that and the clean air the recreation and then it's got it's really diverse. Because they have all these little eclectic neighborhoods within the city so there are a myriad of of areas that you can choose to live in. Starting from the pearl district to Multnomah Village, to the Beaumont area, lake Oswego there and all of those neighborhoods bring their own flavor to the city.
EW
Okay so they each have their own kind of unique fingerprint that that you know defines them.
DT
Absolutely, absolutely and and they're all very diverse. If you're in the pearl district you're in a high rise condo that you know is overlooking the river and you're basically not driving anywhere you're walking or biking. If you're in lake Oswego you've got a beautiful home on the lake and that's a completely different setting and vibe. If you're in Irvington or north west you're in an area of homes that are older and more established in kind of the original neighborhoods of the city. So there's there's a lot to choose from.
EW
From churches converted into concert venues and Twin Peaks inspired lounges the piece in RESIDE paints this very eclectic picture of Portland's night life that seems to kind of mirror the the eclectic nature of the different neighborhoods. What's your can't miss spot?
DT
My can't-miss spot is Al's Den. Al's Den is a part of Mcmenamins which again was originally developed out of an old church and it's this underground place – so you walk underneath and this kind of it's all bricks and dark kind of it den like and there's all different types of a live music going on down there I'm just real different types of music to. The night I was there it was kind of bluegrass–y, but they've got different venues. Hale Pele is a tiki bar recently voted number one tiki bar in America so that's a cool hip spot, and then the vault cocktail lounge is kind of like a hidden gem in the pearl district. If you want to go there to have a a real signature cocktail made up for you that's a spot to go.
EW
I have to say that my favorite part about doing this podcast so far is I'm learning about all these incredible cities that you know are very accessible for for me to get to and I I keep having these these things added to my, I don't wanna call my "bucket list," but you know a list of of things to do every time I go into a new city.
DT
Yeah, and well there's a kind of a saying in Portland it says, "keep Portland weird," and it's true! It's eclectic and it's inclusive and that's the vibe there and it's it's really celebrated through the for the diverse culture residents because there, it's an extremely diverse from tech to retirement to people who are developing their vineyards who are growing wine. I mean it's just and then you know you're an hour where you're at the you're at the Oregon coast. Your an hour away your up skiing Mount Hood. So it's just the accessibility for so many different lifestyles.
EW
Is there anything special coming to the city that we should keep an eye out for?
DT
Well I have heard I don't know if it's clarified but there's a group of investors including the Seahawks quarterback Russell Wilson and his wife that are trying to bring Major League Baseball to Portland it's the Portland diamond project.
EW
That sounds very cool! I'm a I'm a big baseball guys so that's that's exciting it's been a while since there's been an expansion with a new team so that would be really cool.
DT
Yeah they do a lot with soccer, with their Timbers but yeah so that that would be exciting for the city for sure.
EW
Well thank you so much for your time today Deb and thanks for for keeping it weird!
DT
Thanks for having me on, bye!
EW
Chef Jamie Malone had a busy twenty eighteen. Her year old Minneapolis restaurant the Grand Cafe was named one of Food and Winemagazine's best new restaurants of twenty eighteen and her decadently high-end French inspired chicken liver moose donut was named the magazine's twenty eighteen dish of the year. On top of that chef Jamie and her business partner procured a second restaurant, East Side just this past October. Chef Jamie thanks for joining me today!
Chef Jamie – CJ
Thank you so much for having me!
EW
It's it's it's an honor to have an award-winning chef on our second episode of the podcast!
CJ
[Laughs] Exciting for me too!
EW
So, I mean what drew you to French cuisine?
CJ
you know I think sometimes I liken it to music that you fall in love with when you're young. Most people I think you know the music they first fall in love with when they're fourteen fifteen sixteen they're sort of in love with forever. And that's kind of how I feel about food I first fell in love with French food and you know one of the reasons I love food is you get to learn about all kinds of different cultures but French food is my first love so it runs the deepest.
EW
And you're a native to Minneapolis right?
CJ
I am yeah
EW
How did French cuisine come up in the culture there? Is that something that's inherently special to Minneapolis?
CJ
No it's not and you know I went to Le Cordon Bleu so I went to you know a traditional French culinary school, but actually before my time there were some French restaurants in Minneapolis. But when I was coming up there weren't a lot of them and I think that made it feel even more special and a little bit exotic, especially the kind of French food I like to cook which is very old fashioned very you know very traditional so, so to me it felt exotic.
EW
So do you find ways to take the traditionalist approach to a French cuisine do you do you find ways to kind of work in some of the city into that cuisine?
CJ
You know I think the for me the most important way to do that is to create relationships with purveyors and you know so we have people who do flour locally obviously we're the mill city so that's kind of a big thing here. And we get a lot of produce locally that's kind of the biggest way to make the tie in but I'm not I'm not one of those cooks whose hyper focused on the place where we're at I'm kind of more in interested in transporting our guests.
EW
Where you find the inspiration for your dishes?
CJ
You know I think my inspiration for food it comes through just experiences that have brought me pleasure and that I have loved and have stuck with me an impacted me and so I always try to distill that within the personality of the restaurant. You know I get inspiration from really old cookbooks there's just certain things that you know read about or it's just like all man that's just elegant and stunning and I just love everything about it I love you know sometimes the necessity from which things came and then there are you know created and then their refined over generations to be this thing of elegance and art and that I just find incredibly beautiful, but as far as you know for the restaurant also are trying to create dishes but also try to create like the whole world everything about the restaurant is just kind of its own little world, so we like to tie in everything not just the food.
EW
So what do we mean by that, like the décor?
CJ
The music, the decor in the style of service, the words we use I've got a funny story actually my business partner Nicky on Monday we were having a conversation and we're talking about exactly this and I said you know we can we can dig deeper into the words that we use on the on the dining room floor, but to say you know if someone comes into reservation instead of saying great we should say like marvelous because it feels kind of Old World and unique and instead of marvelous I said "marvelfluff" [laughs] Weird, so that's forever our word. We always joke around about that, but we're trying to put a lot of spotlight on the nuances.
EW
So so to lean on your words, speaking of things that are that are "Marvelfluff," How how did you come up with the with the award winning donut? I I've got to know.
CJ
You know it was a work in progress and an old chef partner of mine Eric Anderson and I used to kind of do riffs on things with chicken liver all the time and that was just one of the evolutions that it came into It just really felt like are you know chicken livers is very old fashioned and very rich and can be kind of boring still a little maybe grandma-ish, which I do like, this felt like a really fun and a super fun evolution of it. I like to incorporating pastry techniques in savory food so we use something called Luster Dust for the glaze so it's like sparkling glittery and it's got all those kind of whimsical qualities of a French pastry but it's savory.
EW
Very interesting I mean I I have a very adventurous palates as I as I'm told I and I constantly love to try new things and the moment I read that in in both food and wine and in RESIDE magazine I just said, I've got to try it, I've got to go to Minneapolis to try it I absolutely have to. You mentioned that chicken liver feels kind of like grandma-ish and and that that gets me thinking, how does a background like yours where you have you know this this deep and you know kind of like all-encompassing love for food, but you also have this professional training – how does that differ you from those who are who are brought up in the kitchen and you know they kind of cut their teeth with their grandma standing next to them and you know holding their hands and things like that?
CJ
Yeah that's a good question. You know I think most cooks even who have gone through culinary school really the way you do cut your teeth is either in the kitchen or you probably do have some sort of deeper history growing up with food, which I think is both in the same for me. I think the big difference with culinary school is you really have concentrated time to focus on foundational techniques.
EW
So I mean twenty eighteen has been an absolutely whirlwind of a year it seems like for you with you know everything that you have going on and you know we're just getting into February of of twenty nineteen so what do you think this year has in store for you?
CJ
You know just we've got two restaurants now we've got a great team and we're just going to put our heads down and work on making everything better and more fun and more magical.
EW
No rest for the wicked, right?
CJ
Yeah, exactly [laughs]
EW
Well thank you very much for joining us today on the podcast and be sure to visit chef Jamie the next time you're in Minneapolis and experience her unforgettable culinary creations. Thanks again Chef Jamie.
CJ
Thank you so much for having me.
EW
Thanks again to Sergio, Deb, and Chef Jamie for taking the time to be with us today. Thanks also to Stephen Connelly behind the board and all of you for listening. Don't forget to subscribe to the RESIDE by Sotheby's International Realty podcast on Apple podcasts, Spotify, Stitcher, or wherever you listen. If you're craving more RESIDE visit sothebysrealty.com/reside for more from this and previous issues of the magazine. Until next time…