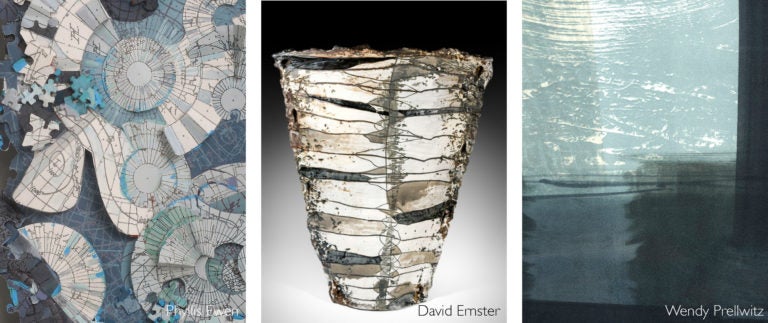 Uncategorized
7/12/2017
George Marshall Store Gallery Sponsorship - July 15 - Aug 20
Anne Erwin Sotheby's International Realty is proud to sponsor the upcoming exhibit at the George Marshall Store Gallery from July 15 - August 20.
Join us Saturday, July 15 from 5-7pm at the George Marshall Store Gallery at 140 Lindsay Road, York, ME for the opening reception.
Gallery hours: Tuesday – Saturday 10-5 / Sunday 1-5 / and by appointment
David Ernster, Phyllis Ewen & Wendy Prellwitz: Imprint
David Ernster is a ceramic artist whose work is deeply connected to nature and water. This inherent connection is rooted in both the materials he uses and his childhood fascination with fossil formations along the Mississippi river. David's interest in vessels and their ability to contain infinite possibilities is what drew him to work with clay and metal, mediums traditionally used in the creation of vessels. In addition to his own work in ceramics, metal, and jewelry, David has taught at multiple universities and is a visiting professor of art at Colby-Sawyer College. Click here to view images of David's work.
Phyllis Ewen's mixed-media artwork is a fusion of art and science with an emphasis on the organic quality of nature. Her sculptural drawings present an exploration of the effects of global warming, such as drying rivers and rising seas. This subtle commentary on politics, society, and nature is a common thread throughout her work, no matter the medium. Phyllis currently works in Somerville, Massachusetts at her studio in the Brickbottom Artist Building, of which she is a founding member. Click here to view images Phyllis's work.
The combination of graphic and organic imagery in Wendy Prellwitz's monotypes and paintings are a result of the dualities that she observes in the fluidity of water – the known and unknown, the tangible and intangible. Ultimately, her work aims to draw the viewer out of themselves and into the infinite beyond of the sea. Wendy currently works at her studio in Somerville, Massachusetts. Click here to view images of Wendy's work.
Amy Brnger:
Surroundings
Amy Brnger uses nature as a vehicle for expression and inspiration throughout all of her paintings, whether it be still life, landscape, or flowers. Her landscapes are often drawn from her surroundings on the seacoast, serving as a means to enjoy and record the region that she calls home. Amy lives and works in seacoast New Hampshire. Click here to view images of Amy's work.
Brett X. Gamache:
Fresh & Ripe
Brett X. Gamache is an oil painter who works and teaches in the Boston area. He paints mostly from observation, typically outdoors, and strives to capture the light, energy, and life that he sees before him. Brett received a BFA in painting from Mass Art, an MFA in painting from the University of New Hampshire, and studied in Italy as a Fulbright recipient in 2007. Images of Brett's work coming soon.