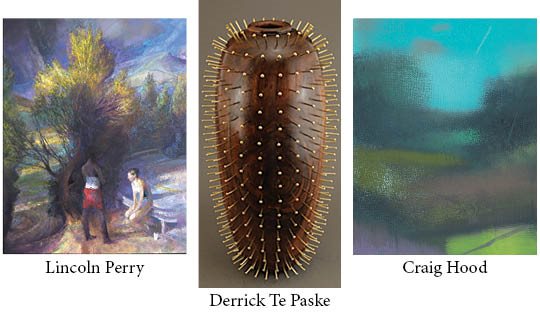 Uncategorized
7/11/2019
George Marshall Store Gallery Sponsorship - July 13 - August 18
Anne Erwin Sotheby's International Realty is proud to sponsor the upcoming exhibit at the
George Marshall Store Gallery
Join us Saturday, July 13 from 5-7pm at the George Marshall Store Gallery at 140 Lindsay Road, York, ME for the opening reception.
Music by Seasmoke
The exhibit runs from July 13 - August 18.
Gallery hours: Tuesday – Saturday 10-5 / Sunday 1-5 / and by appointment
Click Here for a PDF of the invitation
Craig Hood / Lincoln Perry / Derrick Te Paske
This exhibition brings together the work of two well established painters: Lincoln Perry, also a sculptor and muralist who lives part of the year in York, Maine and Craig Hood, a resident of Portsmouth New Hampshire and a recently retired professor from the University of New Hampshire. The artists share a Jewel-like pallet and place allegorical and mysterious figures into their landscapes.
Complementing the paintings are wood-turned sculptures by Boston area artist Derrick Te Paske. His elegant simple forms take advantage of natural grains and are often embellished with markings and studded with brass or copper pins. Click Here to view images of Te Paske's sculpture.
All three artists have spent years in academia and a keen interest in art history is apparent in all their work.
Noriko Sakanishi
| | |
| --- | --- |
| | Noriko Sakanishi has been working abstractly since the 1970's. There seems to be no limit to the combinations that she can make while restricting her shapes to simple squares, rectangles and spheres. Her wall-hung constructions give the illusion of weight, either stone or metal, when in fact they are made of light weight foam materials, meticulously painted in earth tones and applied texture. |
Following DeWitt
Ken Fellows / Bill Paarlberg / Russel Whitten
DeWitt Hardy was a mainstay of the Ogunquit art community until is sudden death in the Autumn of 2018. He is being recognized this summer at Bates College in the exhibition "DeWitt Hardy: A Master of Watercolor." Besides his own painting he is remembered and revered as a teacher. Ken Fellows, Bill Paarlberg and Russel Whitten all studied with him for many years. Hardy was more than a teacher to these men, but a pivotal mentor. His legacy is carried forward by these artists who learned from the best and now share what they have learned through their own teaching and exhibiting.