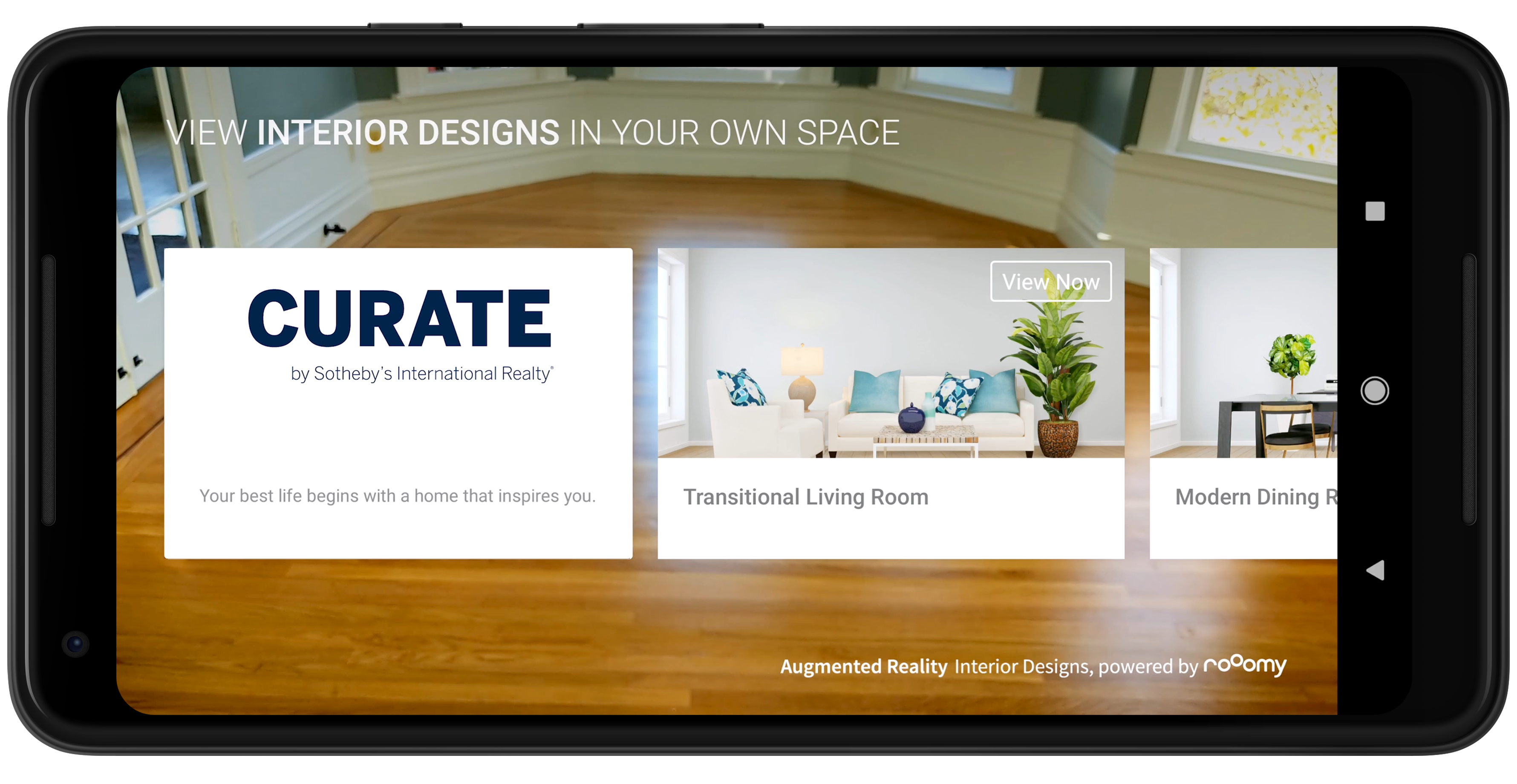 Sotheby's International Realty Brand News
3/21/2018
Curate by Sotheby's International Realty | App Features
by Natalie Hernandez
Originally published on March 21, 2018 | Extraordinary Living Blog
The Sotheby's International Realty� brand has introduced revolutionary augmented reality (AR) app Curate by Sotheby's International Realty(sm). Here are the key groundbreaking features of the app:
Visualization

- Any property can be transformed through a curated selection of AR furnishings and d�cor sets. Listing-specific staging options will be available in the near future.
Recollection

- The app has screenshot capabilities, allowing viewers to capture and store the images of AR furniture sets placed within the visit.
Shop

- Virtual home furnishings can be clicked for more information about the product, including a link to exit the app and be directed to a retailer's website. All furniture is shown to-scale and provides accurate room dimensions, ensuring furniture viewed in the app will be a fit, making purchasing and moving into a new home easier on new home buyers.
"The Sotheby's International Realty brand has always been a leader when it comes to adapting new technologies to the real estate industry and understanding homebuying trends," noted John Passerini, global vice president of interactive marketing, Sotheby's International Realty Affiliates LLC. "Almost a decade ago, we committed to only displaying high-resolution photography on our website; we then had the foresight to understand that video would become increasingly important to homebuyers and so we introduced high-definition videography to our website; and then came 3D and Virtual Reality Tours with Matterport. We recognized that augmented reality is the way in which people will shop in the future and when Google approached us to be an official launch partner for ARCore, we knew it was the right move."
Curate by Sotheby's International Realty is available now for download in the Google Play Store. The app was built with Google's ARCore, which can run on 100 million Android devices worldwide. The Sotheby's International Realty brand will launch Curate by Sotheby's International Realty for iOS this spring through a continued partnership with roOomy.
Learn more about this unprecedented augmented reality experience on sothebysrealty.com