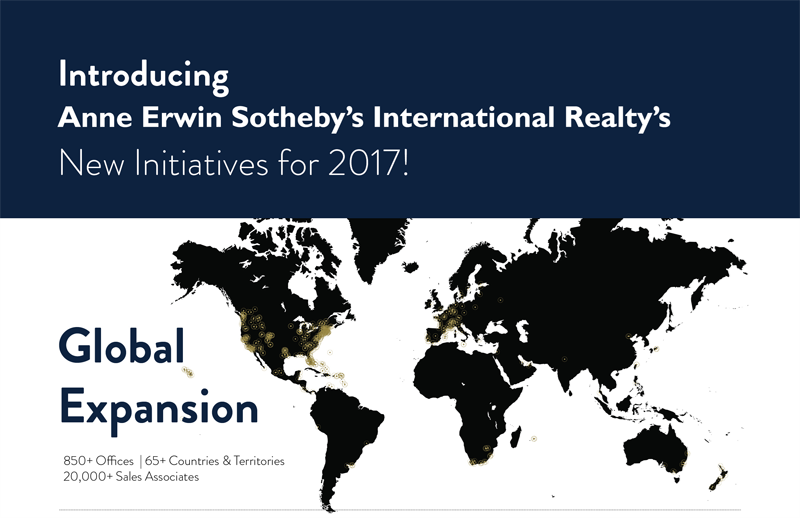 Uncategorized
2/17/2017
Anne Erwin Sotheby's International Realty | 2017 Initiatives

The Sotheby's International Realty continues to expand across the world. To begin 2017, the network consists of 850+ offices in 65+ countries and territories with 20,000+ sales associates!

Search your AppleTV's app store for "Sotheby's International Realty" to download the app! Benefits of the app include:
The ability to explore properties listed by the Sotheby's International Realty, including our exclusively listed homes, brand worldwide by city, state, country or lifestyle, either through entered text or Siri dictation.
A powerful visual experience, offering expertly curated high-resolution photography and high definition videography.
The opportunity to directly contact sales associates, share a property via email, save recent location searches and bookmark favorite properties.
A game mode where players can view captivating property views and guess the location of origin
The ability to access recent searches and favorited properties directly on the AppleTV home screen's "Top Row".
Listing your property with Anne Erwin Sotheby's International Realty offers your property the power of the SIR.com platform. Along with featuring the high quality imagery and videos, the SIR.com website also integrates the option to feature a 3D tour as well!
Along with sponsoring rich video content on NYTimes.com, Sotheby's International Realty's properties are also found in the real estate section of this popular website.

We are thrilled the Sotheby's International Realty brand has expanded our worldwide reach by placing all of our exclusively listed properties onto Juwai.com, one of the most prominent real state sites in China.