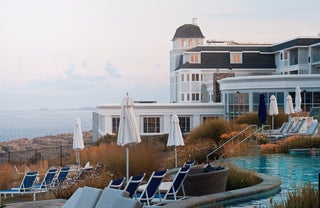 Press Releases
2/27/2013
Anne Erwin Sotheby's International Realty announces move for York office.
YORK, Maine (February 27, 2013) – Southern Maine's premier residential real estate firm, Anne Erwin Sotheby's International Realty, has announced its new office space located at The Emerson House, 31 Long Sands Road in York Village. "The purchase of the 18th century building was initiated by the interest to acquire an important building in York's rich history, as well as to accommodate parking and space for its team of professionals. This building, in the heart of York Village, showcases the stature of the Sotheby's International Realty® brand and is the perfect home for my team", said Linda Briggs, owner of Anne Erwin Sotheby's International Realty.
"We should be all settled in the first week of March" said Briggs. "As we all know, moving can be daunting, but exciting. We are thrilled to be moving into a beautiful antique building that will truly appeal to the clients of this luxury, global brand."
"We are certain that this move will allow us to serve the Southern Maine community with the professionalism and style they have come to expect from us," Ms. Briggs said.
Anne Erwin Sotheby's International Realty has had a leading presence in the southern Maine real estate market for over 30 years. Founded in 1980, the company offers a wide selection of oceanfront, ocean view, waterfront, water view and distinctive homes in every price range in southern Maine including York, Cape Neddick, Kittery, Kittery Point, Ogunquit, Wells, Kennebunk, Kennebunkport, South Berwick, and Eliot. Anne Erwin Sotheby's International Realty is located at 31 Long Sands Road, York, Maine.
The Sotheby's International Realty network currently has nearly 12,000 sales associates located in approximately 625 offices in 44 countries and territories worldwide. Affiliations in the Sotheby's International Realty system are granted only to brokerages and individuals meeting strict qualifications. Sotheby's International Realty Affiliates LLC supports its affiliates with a host of operational, marketing, recruiting, educational and business development resources. Franchise affiliates also benefit from an association with the venerable Sotheby's auction house, established in 1744. For more information, visit www.sothebysrealty.com.